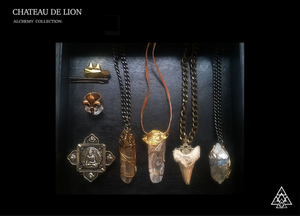 The Chest Of Jewels
Chateau Lion
Regular price $555.00 Sale
Get the whole collection ! The Treasure box comes with a Gold spiked tie clip, A Fluer-De-Lis Brass, Gold or Sterling Silver ring, The Lumerian and Bismuth Quartz Crystal Amulet, The Goddess Quartz Amulet Necklace, The Shark Fossil tooth Necklace, and the Opal and Quartz Point necklace to basically get you through all your energetic supportive needs!
The chain length for the necklaces are customizable, Please note desired length at check out!  17 -21" lengths for the chain is recommended.
Please allow 1-2 weeks for delivery in the U.S
For deliveries over seas please email : info@chateaudelion.com 
30% of proceeds go towards funding a Holistic Healing Arts & Sciences Center in NYC and online with the mission to support our community by making Meditation classes and the healing arts and tools available to everyone on a sliding scale! Together we can make this world more healthy and feel Loved one step at a time! 
Learn more about Sahasra Sukha center for healing arts:
www.sahasra-sukha.org