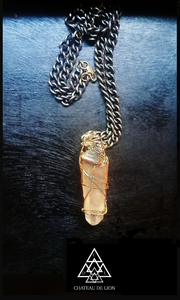 Lumerian Quartz & Bismuth Crystal Amulet
CHATEAU DE LION
Regular price $145.00 Sale
This Lumerian Crystal with Bismuth Wrap is strikingly stylish as well as practical to have with you a beacon of positive energy and clearing.
Lumerian Quartz Crystal is great for clearing and grounding, especially from past relationships you are trying to leave behind, as the Bismuth helps you attract the positive. 
Wrapped with Gold plated copper wire for extra conductivity.
The high quality metal chain used will not rust or die the skin.
Chain length: 20 Inches
Amulet width & length: 1 Inch x 2 1/2 Inches
Please allow 1 to 2 weeks delivery in the U.S. 
For delivery over seas please email:  info@chateaudelion.com